Mar 2, 2018
News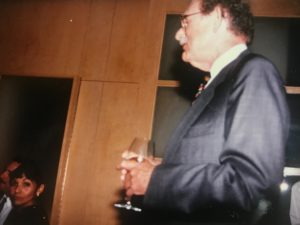 We are saddened to report to friends of Bush Gottlieb, FKA Geffner & Bush, that our former partner, venerable labor lawyer Leo Geffner passed away on the morning of February 28, 2018, just shy of his 90th birthday. Leo worked tirelessly for organized labor and benefit plans representing sanitation workers, teachers, stage performers and musicians, motion picture and television crews and the actors performing in those productions. An old school labor advocate, Leo promoted workers' interests at the bargaining table, in the courtroom, before administrative agencies, and in the legislative arena for over 50 years.
In 1985, Leo successfully argued before the California Supreme Court to establish the right of public employees in California to strike in support of their bargaining demands.  In 1998,  he argued on behalf of the Screen Actors Guild (now SAG-AFTRA) before the United States Supreme Court to defeat an attack by so-called "right to work" proponents on union security provisions in collective bargaining agreements which are central to protecting the interests of labor organizations and the members they represent.   In addition to the SAG-AFTRA, Leo represented the International Alliance of Theatrical and Stage Employees, United Teachers – Los Angeles, Service Employees International Union, and the Motion Picture Industry Pension and Health Plans. Leo could always be counted on for wise and perceptive counsel and camaraderie, and had an unyielding fondness for the Los Angeles Lakers and Dodgers.
Please join with Bush Gottlieb in expressing our profound sadness and sympathy for the Geffner family.